Insiders Are Buying Agriculture Stock Titan International For Good Reasons
Photo by dizfoto1973 via Adobe Stock
After a recent earnings miss, Titan International's share price declined by 30%, and the shares now appear to be undervalued. Company insiders seem to agree, as the former CEO and current CFO bought 120,000 shares on the open market at an average price of $7.20 per share – roughly where the stock is currently trading.
Titan International is a producer of wheels and tires for farm machinery, construction, and mining equipment. The agricultural market represents Titan's historic strength and makes up 47% of sales, while the earthmoving and construction segment accounts for 41% of sales. With sales beginning to rebound from depressed levels, Titan's upside potential from the current price is considerable, which is probably why insiders are buying.
Below are four reasons why Titan seems like a compelling buy at the current price:
Reason #1:  Since 2013, Titan's end markets have been in recession, and they are starting to come out of it now.
Growing conditions have been ideal since 2013, and those conditions have boosted supply and kept corn and soybean prices in check.  Also, oil prices crashed in 2014, reducing ethanol prices commensurately. As a result, corn and soybeans are currently trading at prices more than 50% lower than the highs reached in 2012.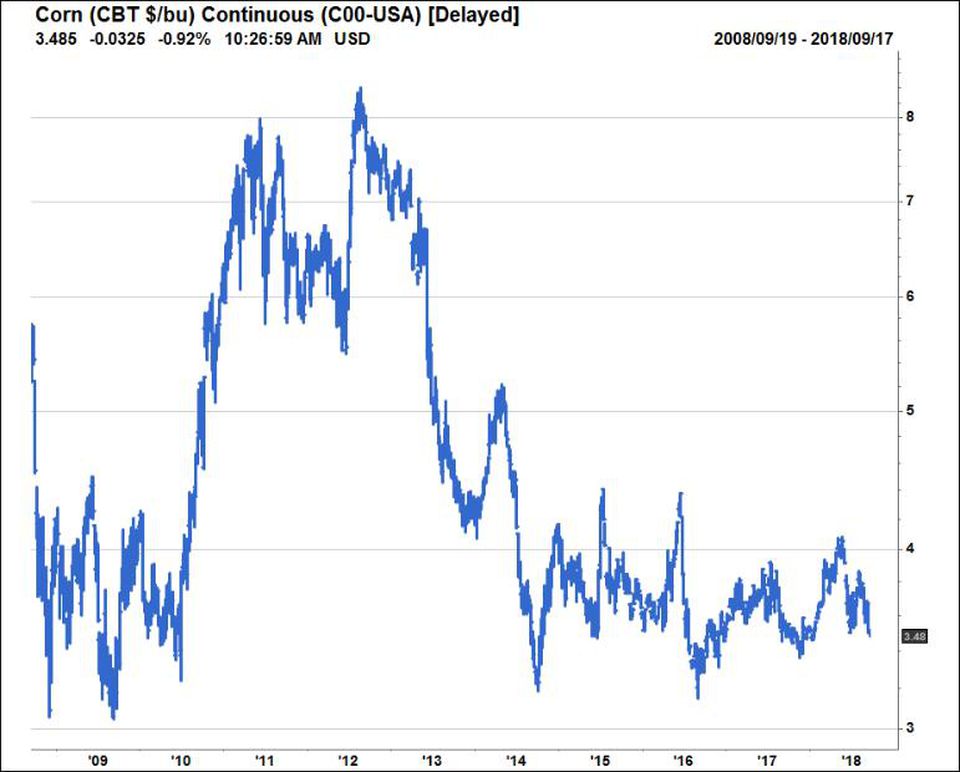 Due to depressed corn and soybean prices, farmers' profits are down, which means farmers have had less capital to reinvest in new equipment. The next replacement cycle for high horsepower machinery will probably not start in earnest until corn and soybean prices finally recover. Fortunately, as the saying goes, low prices will eventually cure low prices. In the meantime, these machines are depreciating fast, and, even if corn and soybean prices do not recover, farmers will eventually be forced to replace their existing equipment. Time is on Titan's side with regard to the capital replacement cycle.
Even with low commodity prices, a slow capital spending recovery has already begun. Titan has generated double-digit revenue growth during the last six quarters in a row, although those revenues are growing off a depressed base.
Reason #2:  Titan's low sidewall innovation is a game-changer for the agricultural industry.
Several years ago, Titan launched a Low Sidewall (LSW) tire/wheel assembly that features a larger rim diameter and smaller sidewall than comparable standard off-highway tires. Overall, LSW provides greater equipment stability and increased productivity:
The bouncing of a tractor is reduced, leading to improved fuel efficiency and less maintenance.
Improved road lope associated with LSW (the physical swaying and bouncing of an off-highway machine during road transport) allows operators to drive these vehicles faster between fields.
Soil compaction, which can cause smaller yields and lower quality plants, is reduced with LSW.
In summary, LSW reduces costs for its customers and improves productivity; this product could revolutionize the agricultural wheel and tire industry. Titan is the only company to offer LSW tire/wheel assemblies, and these products are both taking share and offering higher gross margins for Titan.
Reason #3:  The stock market is not giving credit for the normalized earnings power of this business.
Trading at $7 per share, down from $30 per share in 2012, Titan's stock price remains depressed. However, assuming that sales and margins recover to a reasonably normalized level, earnings could reach $2 to $3 per share. Importantly, these are normalized earnings expectations, not peak earnings.
For argument's sake, let's be conservative and apply a 10x trailing multiple on $2.50 in normalized earnings, and let's also assume that it takes Titan three years to return to these normalized levels. That results in a potential $25 stock price at the end of 2021.
In a stock market that is generally overvalued, Titan's potential upside looks particularly attractive.
Reason #4:  Important insiders are bullish and have been buying Titan shares on the open market.
While Titan's shares appear cheap, insider buying provides further support that Titan's shares are indeed undervalued.
Titan's former CEO and current Chairman, Maurice Taylor, bought $720,000 of shares at $7.20 per share in recent weeks.  He is about as in-touch with the capital cycle for farm machinery as anyone, as he was Titan's CEO between 1990 and 2016. After this purchase, he owns 550,000 shares of Titan.
In addition, Titan's CFO, David Martin, purchased $144,000 worth of shares at $7.21 per share in recent weeks. David Martin became the CFO on June 22nd, and he now owns 50,000 shares of Titan.
Insider buying is no guarantee of anything, but it is usually a good indication that insiders think the shares are trading at an attractive price. In this case, we have signals both from a former CEO who has been with the company for multiple decades and from a new CFO who is looking at the stock with a fresh set of eyes.
Risks
While the risk-reward profile of an investment in Titan shares appears favorable, it is critical to understand the risks. Titan's earnings are correlated to commodity prices, and the company has both operational and financial leverage. Plus, an impending trade war could impact the export of agricultural goods, and the rising costs of inputs would negatively impact Titan's gross margins.
While near-term fundamentals appear clouded and the stock remains depressed, the long-term fundamental growth thesis for the category is attractive, and Titan has done an excellent job of positioning itself as one of the pre-eminent global off-highway tire and wheel producers to the agricultural and construction industries.
This information is prepared for informational purposes only and should not be considered investment advice.  The views expressed are those of the author as of the date of this report, and are subject to change at any time due to changes in market or economic conditions.  Investing involves risk, including loss of principal.  There is no guarantee that the security discussed will outperform any other security in the future.